PlayStation Plus, Sony's flagship PS5 subscription service, is replete with many fun, engaging, and immersive games. PS Plus offers online multiplayer functionality, discounts on the PS Store, and hundreds of games at no extra cost.
The membership you belong to on PS Plus will determine the number of games you can download and play. Below are some of the best PS Plus games that are currently available for play.
Stray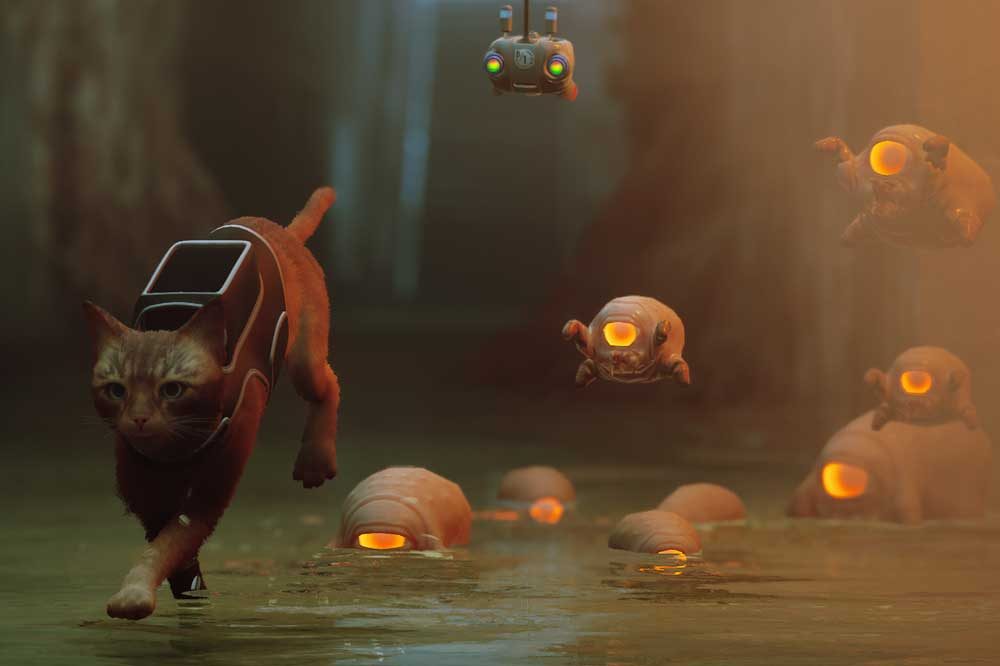 The gameplay of Stray is that of a small orange, homeless cat residing in a robot-inhabited cyberpunk dystopia. You are the cat and you are to solve puzzles, help robots overcome crises, and escape through the surface above. You can scratch and break things as you see them, drop objects to remove barriers, and meow.
Bloodborne
Bloodborne is a PS4 classic featuring brutal FromSoftware gameplay and transporting it into a gothic Lovecraftian setting. Your task is to haunt the Yharnam streets, engaging in a faceoff with the citizens and utterly disturbing mysteries. Bloodborne is a hit and one of PS's exclusives, particularly because it combines almost-flawless gameplay with clean vibes.
Doom
Doom, released in 2016, features incredible speed, an outstanding soundtrack, and incredible acrobatics. You are the Doomsguy and you must move fast with your huge arsenal to frustrate the demonic forces.
You have all kinds of weapons at your disposal, including simple and bizarre guns, fists, grenades, and chainsaws. Meanwhile, the BFG is also there to help you burn your way through hell.
Batman: Arkham Knight
This PS Plus classic features the notorious Batmobile that helps you break into new areas and rescue civilians, among other things. However, even without the Batmobile, the game is exceptional; its exploration of the Joker-Batman relationship fuels some of the game's set-pieces.
Final Fantasy 7 Remake + Intergrade
This game features a revamping of a video game classic into one meant for the modern audience. It features Intergrade expansion's standalone story and Square Enix, enhancing the wrinkles in the already-fascinating world. Remake and Intergrade occur in Midgar industrial city with Shinra corporation as its formidable ruler.
Celeste
This hyper-difficult game features a smorgasbord of worlds and mechanics that ensure players don't relax. The more you play the game, the more brutally difficult it gets; when you think you've mastered the moves, you find more punishing options.
However, it also features interesting gameplay about acceptance, mental health, and a trans protagonist. The beautiful thing about Celeste is that it caters to a wide range of players; the game lets you challenge your skills.
God of War
God of War is one of the best video games ever made and the best one on this list. It features an elegant mix of characters with new mythology with the existing God of War universe.
With this combination, it builds a beautiful story of fatherhood, childhood, and forgiveness, and its actions lack slouches. The gameplay is intimate and sprawling as each ambient dialogue pairs perfectly with the vista before you; it is a classic.
Outer Wilds
Outer Wilds feature a small solar system that resets every twenty-two minutes, where your job is to find out what is happening. Then, you will put two and two together to come up with a plan to stop it.
You will not be gaining experience points or killing creatures in this game. Instead, you will spend much of your time gathering information for the central mystery of the Outer Wilds game.
Returnal
In Returnal, you will control Selene upon your crash-landing on a mysterious planet; Selene is a spacefarer with a vague past. As your adventure progresses, you will find that Selene is canonically sent back to her ship every time she dies.
Then, as you battle through different environments, you will uncover many interlocking mysteries and unlock new tools. The better you get in the game, the better the weapons and tools you will find to help you fight your way to victory.
Ghost of Tsushima
The complex action story of the Ghost of Tsushima game makes for an engaging and satisfying gaming experience. Inspired by 13th-century Japan and Akira Kurasawa films, the game offers players different delightful styles.
You can fight stealthily, creeping up on enemies unawares, or challenge them directly and honorably like a samurai. Ghost of Tsushima is one of the best open-world games and a must-play for every PS lover.